I almost missed playing in Darnell's NBUS challenge, but I made it just in the nick of time! I have several items in my "never-before-used-schtuff" and couldn't wait to play. I've been traveling a bit so I haven't had as much time in my craft room as I wanted. I can't say that I have stacks of NBUS...because I don't order that much anymore, I try to use what I have on hand...and believe me that's a TON of schtuff! Anyway....off to the challenge!
I also have a card that fits perfectly with the
Simon Says Wednesday Challenge
!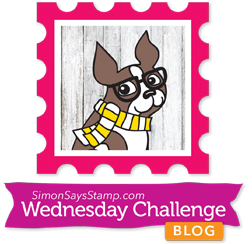 I've made several cards....well, because I wanted to use ALL my new schtuff!
This first card is my FAVORITE! I love the Peony Bouquet from Altenew! The images are just beautiful! I got these stamps just this week and couldn't wait to ink them up! This card is a total CASE of a card made by Marika. Of course, her coloring is so much better than mine...but I'll keep practicing until I get better! I used the small bloom, colored each bloom with Copics and then shaded them with colored pencils. The sentiment is heat embossed and is from PTI. I cut around the flowers and then popped them up.
The cross is a die from Spellbinders and the sentiment is from PTI. I used distress ink to add the yellow halo around the cross...before I adhered the cross with foam tape.
The corner die set is one that I've wanted for a
long
time! I finally ordered it a couple of weeks ago. I made this card and the next two using dies from the set. I love how they turned out! Sentiment is from PTI.
I added a leaf branch from a very old Sizzix die. The sentiment is from PTI and is heat embossed in green.
On this last card I used the corner die in both the top left and bottom right of the card panel. The sentiment is from PTI (I really got some use out of my Papertrey Ink sentiment stamps this week!) and is heat embossed in liquid platinum. I popped the die cut panel over dark blue card stock.
This month at our widow's meeting, we'll be writing cards to each of the church office staff members to say thank you and we appreciate you. Our church staff works hard to keep everything running smoothly, and I'm guessing that they rarely get a "thank you" note from anyone!
Thanks so much for taking the time to stop by for a visit! Hope you'll come back soon! Your comments are greatly appreciated! Until next time...