There's a new challenge this month - the CAS Watercolour Card Challenge. I've been working on my water coloring skills. I'm beginning to see some improvement. I also love the colors of Autumn! The second card also meets the requirements for the One-Layer Simplicity Challenge this month.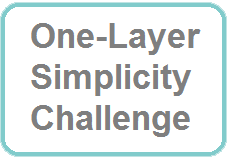 Here's my first card for the challenge....
I LOVE this card. The colors are so rich and vibrant! For the water color on this card, I used a panel of Bristol paper and stamped the image multiple times (using a mask for some of the leaves) in Versafine black ink (which is a great ink for water colors). I colored the leaves with a red, orange, yellow, and green Zig Clean Color markers, then used my Silver #4 brush and water to blend the colors together a bit. You might notice that there is one leaf popped up over the other leaves...that one was stamped on another piece of Bristol paper and hand cut. The stamp is from SU...one I've had forever in my stash...but I use it often. After coloring all the leaves, I used a stitched rectangle for SSS to trim it down a bit. I backed it with a piece of dark brown and adhered it to a white card base.The sentiment is also from SSS. It's a little difficult to see on here, but I added some Wink of Stella to each of the leaves.
And...here's my second card for the CAS Watercolour Card Challenge...which also works for the One-Layer Simplicity Challenge this month.
Same leaf stamp...different water coloring technique. I colored the leaf with water color crayons in red, orange, and yellow. I haven't really tried using the water color crayons before and wasn't sure what I would get. I practiced on some scrap card stock first...and trust me...it makes a LOT of difference how much water you spritz on the stamp after you color it with the crayons. You really need to let the water sit on the stamp for a little bit before you try to stamp with it. You can also get second and third generation images with this technique. After I had stamped each of these leaves, the card just seem to need something else, so I added some splatters with "ink" I created with the same crayons used for coloring the stamp. This is also a one layer card.
I'm really going to love this challenge because it keeps me using my water colors!
As always, thanks so much for stopping in. I appreciate your visit...and I appreciate each and every comment!